As seen on New Haven Register
October is the month to celebrate one of America's favorite foods, pasta.
A recent survey conducted by the National Pasta Association shows pasta is eaten seven times a month, nearly twice a week. Perhaps that is because of its versatility, value and health factors. When respondents were asked what food they could not live without, 60 percent chose pasta — even beating out chocolate.
Pasta's history is as varied as its shapes. According to the NPA, "While widespread consumption is documented from the 14th century, it is believed to have existed in some form in ancient China and Greece. And evidence of pasta dishes appeared in Italian recipe books in the early 1200s."
There are hundreds of pasta shapes, some being regional and not widely known. There are gluten-free pastas (if you haven't tried Aldi's, you won't be disappointed) and pastas made from barley, buckwheat, rye, rice, maize, chickpea and other flours. It is available dried, fresh, frozen and canned (think Chef Boyardee). That, by the way, is not a fictitious name, though the spelling is a bit different — Ettore Boiardi. It was interesting to learn that Boiardi worked his way up to head chef at the renowned Plaza Hotel in NYC. That is quite a step up from canned spaghetti for which he was known.
One of the fun aspects of celebrating food holidays is finding appropriate books on my shelves and looking through them for cooking ideas. I also enjoy finding products, especially new ones, to use in cooking with the celebrated item.
"The Ultimate Pasta and Noodle Cookbook," by Serena Cosmo (2017, Cider Mill Press, $39.95), might just become your pasta "bible." The 800-page volume details the origins and uses of 350 types of pasta and noodles from around the world, as well as the ingredients and equipment that can be used to make your own. Several pages cover the art of cooking both dried and fresh pasta.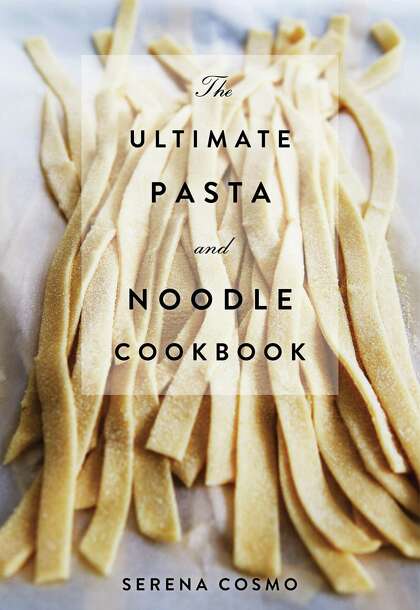 It was fun taking another look at the book based on the popular YouTube channel of the same name, "Pasta Grannies: the Secrets of Italy's Best Home Cooks," by Vicky Bennison (2019, Hardie Grant Books, $29.99). The collection of Italian recipes from 75 nonnas from all over Italy transported me into the heart of their homes, the kitchen, and provoked memories of my trip to Italy last year. Handmade pasta styles range from Giuseppa's pici (a very thick spaghetti) that is simple to make to Anna's lumachelle della duchessa (tiny, ridged, cinnamon scented tubes). What makes this cookbook great is the extraordinary stories of these ordinary women and shows you how with the right know-how and a few good ingredients, truly authentic Italian cooking is simple, beautiful and achievable.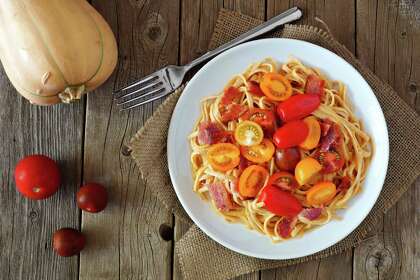 Two new products I found and curious to try are the Pastene tri-color tomatoes and the Prosecco Wine Vinegar. You can try the tomatoes, too, with the pasta recipe below. The vinegar, made from 100 percent Prosecco wine, piqued my interest. It can be used to make a light dressing with extra virgin olive oil and lemon, or as a marinade for chicken or fish that will heighten and enhance the flavors. Or, check out the recipe below for Halibut with Prosecco Wine Vinegar and Succotash. Rather than the succotash, a recipe using pasta is perhaps more appropriate this month.
I am familiar with the Pastene brand, and was curious to know a bit of the company's history. You might know by now, I am a food history buff. There is a New Haven connection, too. Pastene is North America's oldest importer of premium Italian packaged goods. It began as a pushcart operation in Boston's North End in 1848. Pastene has the distinction of being one of North America's oldest, continuously operated family businesses. In 1848, Luigi Pastene came to Boston from Italy and began selling produce from a pushcart. By the 1870s, Luigi, now joined by his son Pietro, had established Pastene as a company selling groceries as well as produce. In the early 1900s the company expanded geographically with distribution and packing facilities established in New York, Montreal, New Haven and Havana as well as in Italy in Naples and Imperia.
Celebrate National Pasta month by trying some new shapes of pasta and recipes or prove to everyone you're the ultimate pasta aficionado with these facts.
Fun facts:
— Americans eat approximately 20 pounds of pasta each year. But wait: in Italy, the average person eats 51 pounds.
— The first American pasta factory was opened in Brooklyn in 1848. It was not an Italian that started the U.S. industry, rather, a Frenchman named Antoine Zerega.
— Americans named spaghetti as their favorite pasta shape.
— 54 percent of Americans keep 1-4 packages of pasta in their pantry at all times.
— According to a National Pasta Association analysis, the average price an American pays for pasta is about $1.45 per pound. This makes it one of the most affordable meal options.
— The U.S. produces 4.4 billion pounds of pasta annually, making it the second-largest pasta-producing nation in the world.
— According to a recent Grain Foods Foundation survey of more than 1,000 U.S. adults representing a cross-section of the population, approximately one-third of consumers named pasta (36 percent) and bread (29 percent) as foods that are comforting during a stressful time.
Pastene Tri Color Tomato Linguine
2/3 cup extra virgin olive oil, divided
6 large shallots, thinly sliced
4 Teaspoons minced garlic
2 cans of Pastene Tri-Color Tomatoes
1/2 cup thinly sliced fresh basil
2 tablespoons chopped fresh oregano
12 ounces Pastene or your choice of linguine
2 ounces grated Parmesan cheese
Heat 1/3 cup olive oil in large skillet over medium-high heat.
Add shallots and sauté 5 minutes. Add garlic; sauté 2 minutes.
Reduce heat to medium; add tomatoes and herbs. Stir until tomatoes are heated through, about 2 minutes. Remove from heat; season with salt and pepper.
Meanwhile, cook pasta in large pot of boiling salted water until tender but still firm to bite. Drain; transfer to bowl. Top with tomato mixture. Drizzle with 1/3 cup oil and sprinkle with Parmesan. Serves 4
Pastene Spaghettini with Tomatoes and Mussels
2 pounds fresh mussels
1/2 cup dry wine
14 ounces Pastene Spaghettini
4 tablespoons extra virgin olive oil
1 onion, chopped
1 can Pastene Italian Peeled Tomatoes, chopped
2 tablespoons finely chopped fresh parsley
Salt and pepper
Grated Parmesan cheese
Wash mussels and remove beards. Place in a large saucepan with the white wine. Cook over high heat, stirring constantly, until mussel shells open. Remove from heat. Discard any unopened mussels. Remove mussel meat from shells, and reserve meat and cooking liquid. Cook pasta in boiling salted water for 10 minutes; drain and reserve. Meanwhile, heat olive oil in a skillet over medium heat and add onion. Cook until onion is tender. Add tomatoes and reserved cooking liquid from mussels. Season to taste with salt and pepper. Cook over medium heat about 15 minutes. Add mussels. Cook over low heat a few minutes to reheat mussels, then mix with hot spaghettini; add parsley and serve hot, sprinkled with Parmesan. Serves 4.
Pastene Fettuccine alla Melanzane
16 ounces Pastene or other fettuccini
3 small eggplants
2 tablespoons pure olive oil
2 tablespoons minced garlic
1 can of Pastene Kitchen Ready Tomatoes, peeled, and chopped
5-7 fresh basil leaves
Salt and pepper
Olive oil for frying
Grated Parmesan cheese
Cook pasta in boiling salted water for 10 minutes or until al dente; drain and keep hot. Meanwhile, wash eggplants and slice thinly. Sprinkle with salt and let stand for 10 minutes. Heat olive oil in a skillet over medium heat. Cook garlic until soft, but not brown. Add tomatoes, basil, and salt and pepper to taste. Simmer for 12-15 minutes. Meanwhile, rinse eggplant slices and pat dry. Heat a thin layer of olive oil in a second skillet over medium-high heat. Fry eggplant slices until brown and crisp on both sides, adding more oil if necessary. Mix tomato-basil sauce with eggplant and hot pasta. Serves 4.
Pastene Spaghetti Carbonara
16 ounces Pastene Spaghetti
8 slices of bacon, diced
4 eggs, lightly beaten
4 tablespoons heavy cream
2 tablespoons extra virgin olive oil
1/4 cup grated Parmesan cheese
2 tablespoons chopped fresh parsley
Salt and pepper
Cook spaghetti in boiling, salted water until al dente. Drain and keep hot. Meanwhile, cook bacon in a skillet over medium heat until crisp. Drain and reserve. In a bowl, combine eggs and cream. Season to taste with salt and pepper. Heat olive oil in a skillet. Stir in reserved spaghetti, bacon, egg mixture and Parmesan. Mix very well and serve immediately, garnished with parsley. Serves 4-6.
Halibut with Prosecco Wine Vinegar and Succotash
2 pieces halibut
Vegetable oil
Compound butter or regular butter
Salt and pepper
1/4 pound bacon, small dice (about 3/4 cup)
1/4 medium red onion, minced
2 medium garlic cloves, thinly sliced
2 cups fresh or frozen white corn kernels
2 cups fresh or frozen lima beans
1 cup fresh or frozen black-eyed peas
Kosher salt, to taste
2 tablespoons Prosecco wine vinegar
To make succotash, fry bacon in a pan and add onion and garlic and sauté until translucent. Add the fresh or the defrosted vegetables, salt and Prosecco wine vinegar and cook until vegetables are done to your liking.
To prepare the fish: Heat a grill or a seasoned grill pan to medium-high, about 375 degrees. Pat the fish dry with paper towels, brush both sides with vegetable oil, and season well with kosher salt and pepper. Place fish skin-side down on the grill or in the pan and cook until the flesh is firm and just opaque in the center, about 4 to 5 minutes per side. Remove from grill, immediately top with compound butter or plain butter, and serve over succotash or your favorite pasta to celebrate National Pasta Month.
CULINARY CALENDAR
5th annual Beet Festival, 11-6 p.m. Oct. 11, White Silo Farm & Winery, 32 Route 37 East, Sherman, 860-355-0271; $25 per person for a 2-hour reservation (11 a.m.-1 p.m., 1:30-3:30 p.m., 4-6 p.m.) and includes four items made with fresh beets: Beet Burger, Golden Beet Soup, Beet Salad with greens, and a Red Velvet Beet Cupcake. A tent will be set up in case of rain. Every guest must purchase a ticket. Reservations are limited and can be made on https://whitesilowinery.com. Music with Don Lowe from 25:30 p.m. This is a pet-friendly event.
BASTA Trattoria, 1006 Chapel St., New Haven, 203-772-1715, Pasta Trio, menu at bit.ly/2WPnmwy, choose three different pastas and three different sauces for $20 per person. Served for lunch (noon-3 p.m.) Saturdays and Sundays for dining indoor or outdoor. bastatrattoria.com
Geronimo Tequila Bar and Southwest Grill, 271 Crown St. New Haven, 203-777-7700, happy hour from noon to 4 p.m., with $1 sliders, $1 drafts and $2 cans and bottles. These specials are available for dine-in only (indoor or outdoor). bit.ly/2ZW5cek
Shell and Bones, 100 S. Water St., New Haven, 203-787-3466, re-introduces happy hour, Monday through Thursday from noon to 4 p.m, offering $1 oysters, half-price bottles of wine and $1 drafts. Specials available for dine-in only (indoor or outdoor). shellandbones.com
Worth Tasting, culinary walking tour of downtown New Haven, Oct. 24, 10:30 a.m., reservations required, 203-415-3519, $68. Enjoy tasty samplings from several of New Haven's favorites. Tickets at bit.ly/2FjiwMP.
What chef would you like me to interview? Which restaurant recipes or other recipes would you like to have? Which food products do you have difficulty finding? Do you have cooking questions? Send them to me: Stephen Fries, professor and coordinator of the Hospitality Management Programs at Gateway Community College, at gw-stephen.fries@gwcc.commnet.edu or Dept. FC, Gateway Community College, 20 Church St., New Haven 06510. Include your full name, address and phone number. Due to volume, I might not be able to publish every request. For more, go to stephenfries.com.